Scales
Featured Scales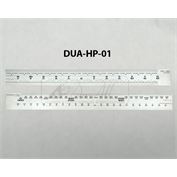 Commemorative scale by Du-All.
Excellent for professional engineering, architectural, and machining applications.

Scale dimensions: 13" x 1.5"
Thickness: 0.020" (20 thousands)

Etched graduations
Flexible tempered Steel
May be read in either direction of the scale.
Can be used as a depth gauge; use for butt-end measuring or line-of-sight measuring.
Increments: Inch, metric, Full Size mm (0.50), Full size 50ths (0.02), Full size Fractions (1/32), Half Size Fractions (1/8)

BONUS SCALE INCLUDED (Limited time offer): Includes a limited production 6" tempered steel flexible scale! A $13.00 value.
Increments: Inch, metric, 50ths, 10ths

Packaged in a 100% cotton handmade paper sleeve.